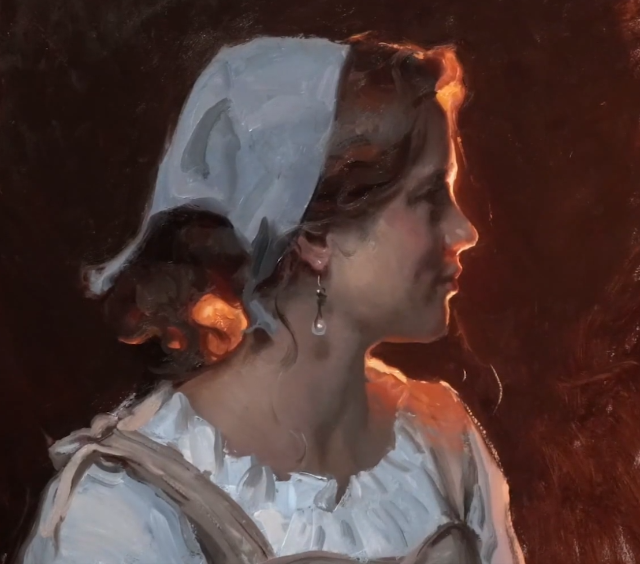 Glowing Back-Lit Portraits
Light has a magical way of influencing the mood of your painting, and in this course Michael will show you how to make a painting glow with the right lighting elements. Start with setting up your light sources and model to snap the ideal reference photo. While not the easiest light to capture, the back-lit glow has an unparalleled effect on the spirit of your work. Learn to balance shapes, value, edges, design, and color temperature with increasing complexity as you build up to a portrait exercise where your newfound skills are put to the test! ( 3+ hours)
Meet your instructor
Michael Malm
Michael lives in the beautiful Cache Valley of northern Utah with his wife, Juanita, and their four children. The surrounding rural communities and setting provide backdrops for his figure paintings and inspiration for his landscapes. His serious study began under Del Parson at Dixie College where he completed his associate's degree. He then went on to Southern Utah University where he had the opportunity to study with Perry Stewart, and completed his formal education at Utah State University where he received a Master of Fine Arts Degree studying under Glen Edwards. Workshops have also played an important part of his development studying with such master painters as Richard Schmid, Burton Silverman, Daniel Gerhartz, Quang Ho, Ron Hicks, Michael Workman, and Jim Norton.
Utah State University MFA

Southern Utah University

Southern Utah University



Don't let learning be a pain with my engaging and interactive online courses designed with personalization in mind.
\Learnworlds\Codeneurons\Pages\ZoneRenderers\CourseCards
\Learnworlds\Codeneurons\Pages\ZoneRenderers\CourseCards