Today we'd like to introduce you to Keith Huang. He and his team share his story with us below:
Keith moved to the US to become an artist. He worked hard and finally was accepted into an art school in San Francisco with a scholarship. Unfortunately, assuming he would qualify for financial aid, the school gave his scholarship award to another student. As an international student, Keith wasn't eligible for financial aid and he had to turn down his placement in the school, lose his deposit and his art school dream with it. However, the desire to become an artist was strong enough that he continued his art education at a local State College.
It was there he met his wife, Julie. To support his family, Keith switched from art to accounting and began his career in corporate finance. Years later, at a neighborhood social event, he met gallery painter, Bryan Mark Taylor. Keith and Bryan realized they were the perfect team to create an art school where artists can further their education and grow their careers as professional artists. They wanted to create an art school that provided inclusive, affordable, and quality education. Together they founded Sentient Art Academy.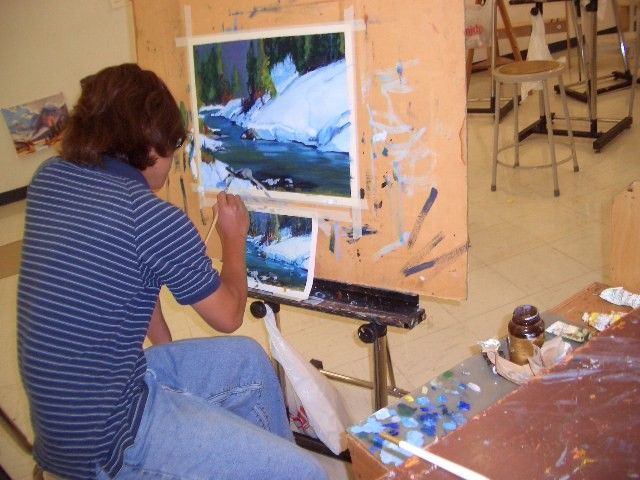 Can you talk to us a bit about the challenges and lessons you've learned along the way. Looking back would you say it's been easy or smooth in retrospect?
Sentient took off running with hundreds of artists learning online from all over the world. Although there were unexpected challenges such as the covid-19 pandemic, and years of social distancing, Sentient has always found a way to stay above the curve by focusing on the learning value with innovative solutions.
At times, we have faced challenges, such as when Sentient strove to serve families with K-12 kids. As much as Sentient wished to offer K-12 art education directly to students, without adequate funding, it was nearly impossible to produce the amount of content to cover such a wide variety of topics and age/skill ranges. Sentient instead found a realistic way to make an impact with limited funding: we partnered with Alpine School District, the largest school district in Utah, as a professional development resource for the art teachers. The concept is to rekindle the fire within these artist-turned-teachers and help them become better artists so they can be better equipped to teach and inspire students in the classroom without a financial burden on teachers or families. Our vision to help k-12 students has always been the same, however, the steps to reach that goal have needed to change.
We wish to see more support from private foundations or the state to expand the k-12 program to benefit more teachers and students. It really takes a community sharing the same goals to keep the creativity flowing in a region that is primarily focused on tech development. After all, pure tech innovation is merely lines of code or ugly concepts until it's layered with creativity and great design. To paint a visual picture, without the arts we just have a bunch of strong stems without any flowers.


Thanks – so what else should our readers know about Sentient Academy?
Sentient is here to support and inspire the creative journey, wherever it takes you by leveraging the knowledge and skills of working professionals. At Sentient, we understand the roadblocks that keep artists from reaching their dreams. We've been there; we've felt the discouragement firsthand. We built our Academy to remove these creative barriers and accelerate the learning experience. Whether someone hopes to become a professional artist or simply a better artist, we have a pathway to get them there.
What sets us apart is that we help artists not only grow their skills but also learn about real-life applications. We want artists to be able to support themselves financially by selling their work or landing other art jobs across the industry. I am always trying to find ways to teach business strategy to Sentient students. It's powerful to realize that you don't need to first arrive at the highest skill level before you can support your dream financially. Finding the right balance to get started and continue growing is the key.
To solve the root problem of the negative return or even lifetime debt of traditional art education, we are proud to introduce our live Mentorship programs. Artists worldwide can now study with working professionals weekly and work towards their personal goals while paying less than one-third of the tuition of traditional art schools. We want the world to know that anyone, at any age, with the desire and work ethic, can become a professional artist. You don't have to go to an expensive school or apprentice for years at a time. You can accomplish your dreams at your own pace, whether you have kids or are working a full-time job.
So maybe we end on discussing what matters most to you and why?
What matters most is to know that we've paved a road to success for the future generation, like my 3 creative children. You don't need to be born rich in order to fulfill your basic human desire to create and express yourself. The percentage of art school graduates who then work in the art industry is extremely low compared to other majors. However, most of Sentient's art students began their art journey years after the conventional college graduation time frame. In fact, many Sentient art students have now won local competitions and are making larger sales from the accelerated learning track that we offer.
Click to read the full
Voyage Utah
article.
\Learnworlds\Codeneurons\Pages\ZoneRenderers\CourseCards
September's Bundle of the Month
Gouache Series | Light with Jeremy Duncan
NOW $50
($50 savings)
New Mentorship available!
Advanced Tiffanie Mang Mentorship