We are so thrilled to have Francesco Lombardo join Sentient as a new Instructor!

Francesco (Also known as Frank) is a talented oil painter whose work is known for repetition, movement, and layers of translucent form, influenced by Classical Sculpture, High Renaissance and Baroque Art. Among other honors, his work has been on display in the Smithsonian National Portrait Gallery in Washington D.C. Francesco lives and works in North Carolina.

Scroll, and read an exclusive interview with Frank below, as well as his growing list of courses!


Get to Know Francesco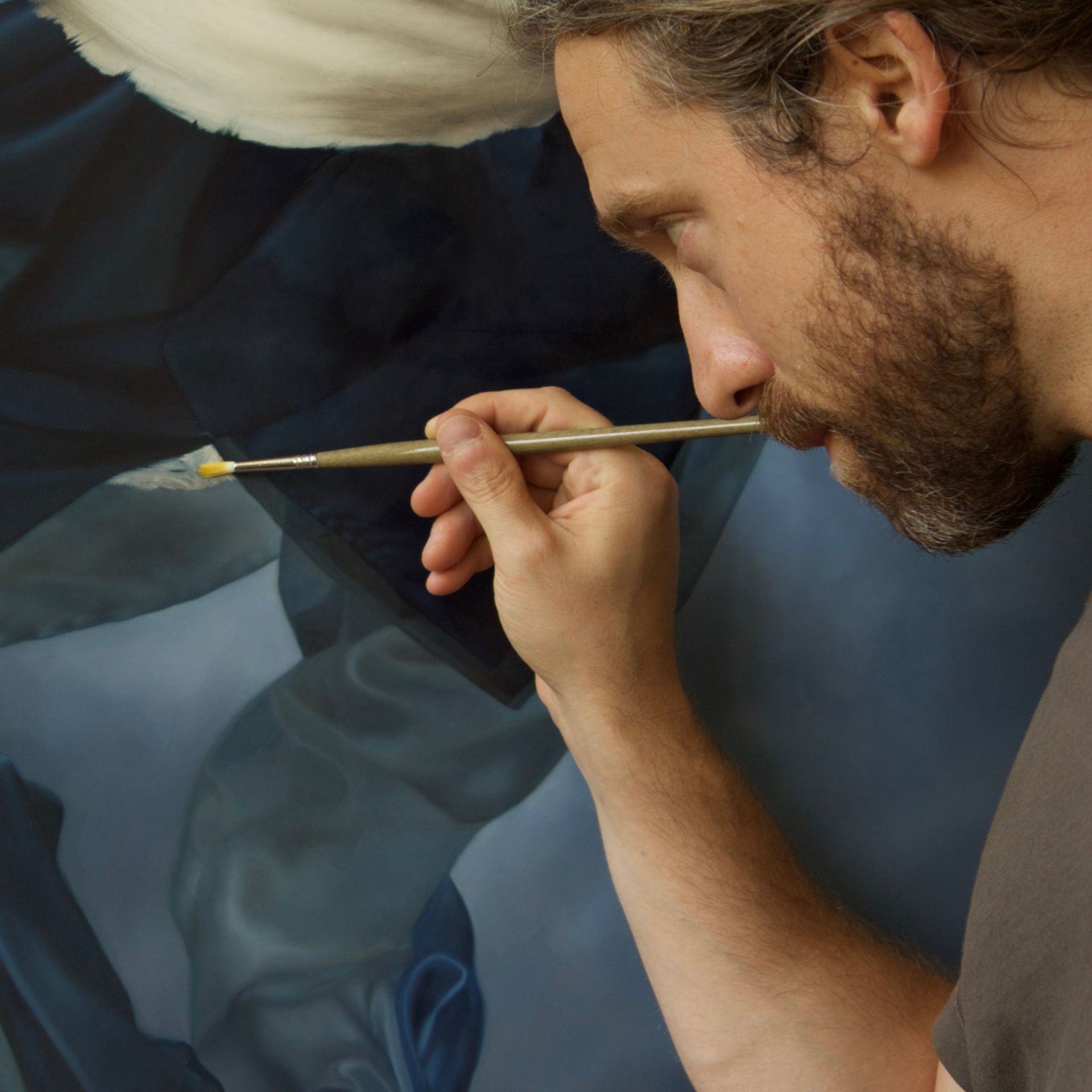 Where did you grow up? Did you come from an artistic family?
I grew up in New Jersey, a little under an hour's drive from NYC. Although no one else in my family was an artist, everyone was very encouraging. My parents helped me find what instruction there was in the area (before amazing things like Sentient existed!) and they were very supportive of me going to an art school for college.
What got you interested in the arts?
The feeling of being grounded and centered while in the process of drawing was something I've felt for as long as I can remember. I'd look forward to returning to this feeling each time I set up to sketch, and in a way seeking this feeling set me on a path towards more and more art making. I gravitated towards the mediums available to me, like graphite, charcoal, and acrylic paints, and tried my best to recreate images from comics and fantasy novels. The dynamic figures in comics always interested me, and when I was able to copy one well enough that my finished drawing would captivate a friend, even if for just a few seconds, I felt accomplished in a way I never had before.
Fun Fact(s) about yourself.
I'm colorblind! I have issues discerning red and green, which have made being a painter a fun challenge. I have techniques to help me achieve the color results I want, and I'm always experimenting with new tools to help me navigate through my palette. I've found that a lot of my work-arounds are also very helpful for painters without any color discerning issues.
What College/University/Other did you attend?
I went to art school at Maryland Institute College of Art. I was able to connect with some great instructors there, and I was very lucky to be part of an incredibly skilled class. Many of the students had been attending magnet schools with many hours of studio time already behind them, and although being dropped in the middle of such a group was a little intimidating, I think it helped me feel incredibly motivated to learn.
What are you currently doing with your career, and what future goals do you have?
Currently I'm living in the hills of western North Carolina, painting most weekdays. The biggest goal I'm working towards at the moment is finding a gallery that can regularly sell my larger work. For the most part my income has been from commission paintings, smaller works, and teaching. I always plan on teaching, painting at different scales, and even taking on commissions, but it feels very special when I'm able to sell a larger piece. When I spend months and months on a painting, pouring my soul into it, I always feel deeply validated when a collector is willing to pay the high price of having it in their home. As artists I think it feels great to be able and sell our most meaningful and highest priced work on a regular basis, and that reality is what I'm building now.
Is there anything you wish you could have done to get to this point sooner?
Absolutely! Hindsight is 20/20. For just this reason I'm always excited when I get the chance to coach someone in figuring out their artistic path forward. Although I got a lot out of a four year art school, I wish I had immediately sought out artists I admired and made a point of studying with them directly. I was able to do this with Odd Nerdrum, but had I made more of a point of honing my skills with different professionals I could have certainly saved years of time. I also wish I knew the concept of what I've come to call "specific practice". This basically means bringing a specific intention into each session of learning, so if for example I was drawing from a live model I would pick something specific to focus on, such as being efficient and steady paced with my block-in. As soon as I started practicing with specific intentions I noticed much more progress in all my art making.
Check out Frank's Website
&
Instagram
New Courses Coming Soon in 2023
See other popular courses
\Learnworlds\Codeneurons\Pages\ZoneRenderers\CourseCards
September's Bundle of the Month
Gouache Series | Light with Jeremy Duncan
NOW $50
($50 savings)
New Mentorship available!
Advanced Tiffanie Mang Mentorship