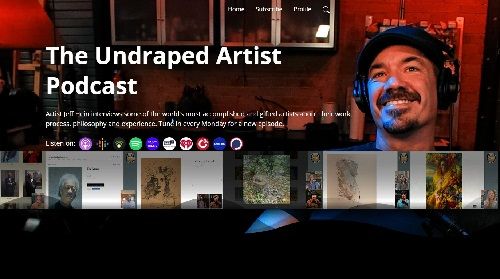 The Undraped Artist Podcast
Many of you don't know this, but Jeff Hein has been a full-time artist since 2002. Back then, at the dawn of his career, he would give given anything to sit down and speak to these modern pioneers of art. Now at the height of his craft, Jeff's finally realizing that dream, and has decided to give access to these inspiring conversations to the art community at large. That's the goal of the Undraped Artist Podcast, to provide aspiring artists a chance to listen in and draw inspiration from today's masters. ( 10+ hours)
Jeff is known for his portraits, multi-figure narrative & scriptural paintings. His work is collected by some of the most high-profile public & private figures. Jeff started teaching with Sentient in 2021 to provide the most effective, yet budget smart online mentorship for students all over the world.
Faculty | Portrait Society of America Conference
Living Master | Art Renewal Center
Hein Atelier of Traditional Art | ARC accredited
1st Place | Springville Museum of Art Annual Salon
2nd Place | National Portrait Society Competition
2nd Place | Art Renewal Center Salon, Figurative
Don't let learning be a pain with my engaging and interactive online courses designed with personalization in mind.
Professional Mentorship Options
Sign up for perks!
Sign up to Sentient newsletter and get 20% off your next course!
Check your inbox or spam for the coupon!
Updates, tips & deals

free course alert!