Jeff Hein
One of the reasons I choose to work from life is because of the relationships I am blessed to make while painting.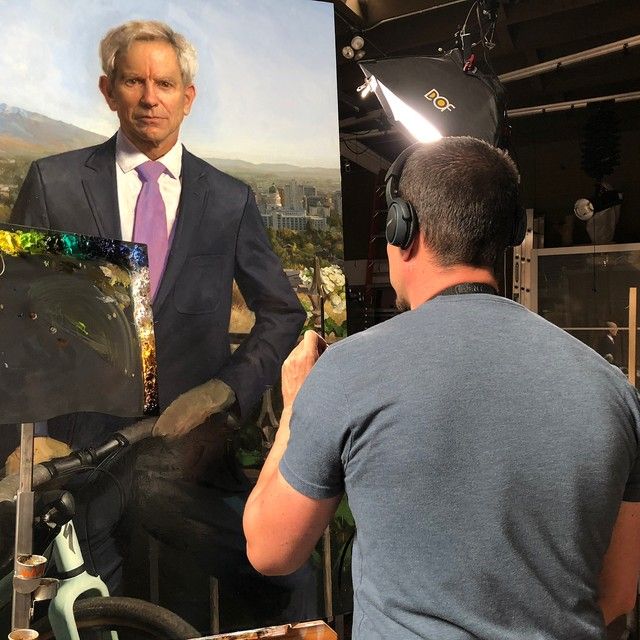 Jeff Hein was born in New Windsor, New York in 1974. He began studying drawing at Ricks College in 1992 under Gerald Griffin. In 1997, after a 4 years off to serve a mission and battle cancer, Hein resumed his studies in painting and drawing at Salt Lake Community College under Rick Graham and Rob Adamson. From 1998-2002 Jeff attended the University of Utah where he also studied painting and drawing. Hein began a full time painting career in 2002. From 2008 to late 2010 Hein took a 2.5 year sabbatical to devote to personal study and exploration of naturalist painting techniques.
In 2007 Hein founded the Hein Academy of Art in Salt Lake City where he trains 12 apprentices in the naturalist tradition of Painting. In 2021 Hein expanded the Hein Atelier to online, by partnering with Sentient Academy. In 2022 Jeff started the "Undraped Artist Podcast" through which he explores the works and processes of Artists he admires in an effort to remain in constant personal and professional growth . Hein is known for his portraits, multi-figure narrative and scriptural paintings. His work also includes large scale still-life works.
Hein strongly values handmade things, in other words, thing made without the aid of machines. He feels that art can tell a story about the life of its creator, and his subjects, especially if that artist's process involves a pure and intimate relationship with his subject matter. Hein works predominantly from life or imagination in his paintings. He sees each painting as a personal record of his experience with his subject, whether that be a person, animal, landscape or just his imagination. To him a painting or sculpture should be more than just a beautiful object. It should be the product of the artist's experience. Each piece of art should carry a piece of the artist's, and subjects', history by embodying the events that led to its creation.
Jeff's Website
\Learnworlds\Codeneurons\Pages\ZoneRenderers\CourseCards
September's Bundle of the Month
Gouache Series | Light with Jeremy Duncan
NOW $50
($50 savings)
New Mentorship available!
Advanced Tiffanie Mang Mentorship